JVM Tehnologic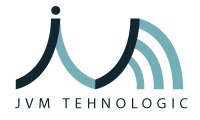 …since 1992…
JVM Tehnologic™ is a key company in the area of Integrated Banking Systems in the Romanian market, with an excellent number of references in the Banking Sector. The core activity of JVM Tehnologic™ is the design and implementation of large software applications, mainly for the banking and financial market, a market that has witnessed the growth of JVM Tehnologic™ alongside its partners in this field. Since its inception, JVM Tehnologic™ has strived for a continuous evolution of the software that it provides and has adapted perfectly to the customers market and their requirements.
Business considerations and company vision:
JVM Tehnologic™ comes to support its partners in their initial operations of selecting the most appropriate software and hardware platforms, as well as being by their site in their future operations. By providing the latest software technology and the most cost efficient solutions to its partners, JVM Tehnologic™ maximizes the business potential and profitability in the developing local banking market. JVM Tehnologic™ prides itself on keeping a very high standard of efficiency in its relationship with the client, thus setting a high level of configurations and modularity.
General characteristics:
The JVM Tehnologic™ software solutions have a high level of automated data processing, as well as secure and interactive data management. Our partners benefit from a complete overview of the whole technical aspects of our applications, in efficient conditions of organization and control. Adaptability is one of our strong points in an increasingly demanding business field and this is reflected by the way we handle the special requests of our partners, in respect of market climate, level of development in the network, territorial expansion degree and various other internal and external elements.